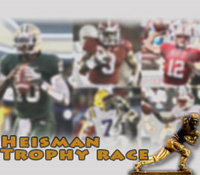 One of the most popular college football prop markets is futures odds on which superstar will be next to hoist the Heisman Trophy as NCAAF's top player. This market opened earlier this summer and rolls right into the minute before the winner is announced.
Of course, finding the best value is the key to this prop and you'll get the best price on players before the season even begins.
We completed our sports betting handicapping and here's a look at some favorites as well as live long shots to win the 2015-16 Heisman Trophy.
Favorites:
Ezekiel Elliott, Ohio State (+500), Dak Prescott, Mississippi State (+500), Leonard Fournette, LSU (+500), Trevone Boykin, TCU (+600)
Elliot is the biggest star on the best team in the land, which is usually the inside track to the Heisman Trophy but he does have plenty of talent around him in Columbus and could be outshined at times.
Prescott is trying to up his draft stock with the Bulldogs this season. He finished second in passing yards per game in the SEC and tacked on another 75.85 yards on the ground per contest, eighth in the conference last season.
Fournette will get plenty of touches as LSU still has questions in its passing game. He rumbled for 79.54 and that number could increase.
Boykin and the Frogs have plenty to prove after getting snubbed by the college football playoff last winter. He tossed for 3,901 yards through the air and scrambled for an additional 707 rushing yards, racking up a combined 41 total touchdowns.
Live long shots:
Jeremy Johnson, Auburn (+2,000), Connor Cook, Michigan State (+1,500), DeShaun Watson, Clemson (+1,500)
Johnson is already creating NFL buzz with his size and tremendous arm strength. The junior has watched from the sidelines as the Tigers navigated the SEC the past two seasons and it looks like he has top WR Dhaquille "Duke" Williams back from suspension.
Cook and the Spartans are the biggest threats to Ohio State's national title hopes. If Michigan State can hold its own in the Big Ten and knock off the Buckeyes, Cook would be the man behind that breakthrough.
Clemson is one of the Top 10 favorites to win the national championship, so getting the Tigers' star QB and possibly the best player in the entire ACC at this price is the definition of a live long shot. However, Watson was injury prone last season with collarbone, hand and knee injuries hampering his development.