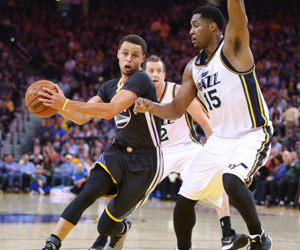 Home-court advantage may be an understated factor in the NBA, or at least it is when it comes to these potent home plays. However, the opposite can be said for this handful of NBA teams taking on hostile environments as well as the pointspread. Here's a look at the best home and away bets a month into the 2015-16 NBA season which can help you make some free handicapping selections:
Best Home
Dallas Mavericks (5-2 SU, 5-2 ATS)
The Mavericks were supposed to take a step back in the Western Conference this season, but tell that to the Dallas faithful who have fueled their favorite team to a 5-2 ATS mark inside American Airlines Center. The Mavs have actually done it with defense, giving up only 96 points per home game, which is a drastic contrast to their 102.3 points against as visitors. Dallas is just 6-5 ATS on the road, which is where it plays three of its next five with home stands against Houston and Atlanta in that span.
Detroit Pistons (5-2 SU. 5-2 ATS)
Much like the Mavericks, the Pistons have proved profitable in the Palace. Detroit is giving up less than 94 points per game as a host, but isn't overwhelming opponents on the other end of the floor. The Pistons are tops in the league at limiting opponents' second-chance looks, allowing only 6.4 second-chance scoring opportunities per home game. They're just 2-4 ATS away from Motown and play just one road tilt in their next five contests, hosting Phoenix, Los Angeles, Milwaukee and Memphis.
Best Road
Minnesota Timberwolves (6-3 SU, 9-0 ATS)
One of the biggest surprises of the 2015-16 campaign has been the play of the T-Wolves on the road, currently unblemished against the spread in the role of visitor. That record is even more astonishing when you consider Minnesota is a mere 1-7 ATS at home. The Timberwolves are scoring five points more per game on the road compared to inside the Target Center, and have allowed just under 99 points per game on the highway after giving up 104.4 average points at home. Minnesota, unfortunately for bettors, plays four straight at home starting Monday versus Orlando.
New York Knicks (5-4 SU, 7-2 ATS)
We could have put the Golden State Warriors here, who are also 7-2 ATS on the road – not a big surprise. The Knicks, on the other hand, would shock bettors with their production against the spread on the road, especially considering that New York finished 17-20-3 ATS away from MSG last season. So what's different this time around? The Knicks are actually playing defense, allowing 99.3 points per road tilt, and they're knocking down almost 38 percent of their treys on the road compared to just 28.9 percent from distance at home. Those extra 3-pointers add up. New York plays two of its next three on the road, visiting Milwaukee and Utah.