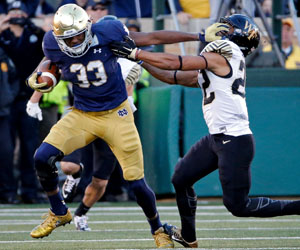 The Heisman Trophy race seems to be a one-man show, with Penn State tailback Saquon Barkley leading the pack at -200 odds. Barkley is a deserving favorite, rushing for over 800 yards, totaling 471 receiving yards, and scoring a combined 14 touchdowns (rushing/receiving/returning) heading into Week 10.
However, some of the shine may have come off Barkley's Heisman campaign with the Nittany Lions' loss to Ohio State last week. Barkley finished the game with just 44 yards on the ground and 23 yards receiving, but did return the opening kickoff 97 yards for a score. Could that showing open up value for those Heisman hopefuls behind him on the betting board? Here are some sports handicapping picks for the possible heisman winner:
Chasing Barkley in the Heisman futures are Buckeyes QB J.T. Barrett (+325) and Oklahoma QB Baker Mayfield (+650), but despite their place on the board, neither seems like a true contender to win college football's top individual honor. There may be better value with these live Heisman long shots:
Josh Adams, Notre Dame Fighting Irish (+900)
The Fighting Irish have only one loss on their record in 2017, a one-point defeat to Georgia in Week 2 – something that shouldn't dismiss them from the CFP Final Four conversation. Notre Dame has taken on some tough competition, such as Southern Cal, Michigan State, and North Carolina State and Adams seems to be getting better with every game.
He put up 191 yards on the ground against USC and blistered NC State for 202 yards rushing. On the season, the 6-foot-2 junior has run for 1,169 yards – sixth most in the country – and has found the end zone nine times. Playing for the Irish doesn't hurt his chances either, getting that national spotlight every week.
Khalil Tate, Arizona Wildcats (+6,500)
Had Tate got the starting job at the start of the season, he'd likely be the favorite to win the Heisman. Since taking over at quarterback in October, the Wildcats sophomore has exploded for huge numbers and has taken Arizona along for the ride – bringing a 6-2 mark into Week 10's showdown at Southern Cal.
Tate has passed for 784 yards, burned up the field with 926 yards rushing, and has helped put 14 touchdowns on the board. He's coming off huge win over Washington State in which he threw for 275 yards and two touchdowns and tacked on 146 yards on the ground along with a rushing score. The Wildcats have just four games remaining but if Tate can keep this pace and lead Arizona to victory in each one, he could get the Heisman call.
Lamar Jackson, Louisville Cardinals (+6,500)
What more do you want from Lamar Jackson? The reigning Heisman winner has continued to stack the scoresheet with his super human efforts each Saturday. The Cardinals have stumbled a bit, which will likely hurt his Heisman chances, but if this was an award on production alone, there would be no denying him.
Jackson has amassed more than 2,800 passing yards, 1,029 rushing yards and 32 of his team's total 43 total offensive touchdowns – that's almost 75 percent coming from Jackson's arm or legs. Louisville has lost three of its last four games heading into a bye in Week 10 and then faces Virginia, Syracuse and Kentucky to close out the year. If the Cards can win out in all three games, and get the same production from Jackson, he should at least get a nomination.