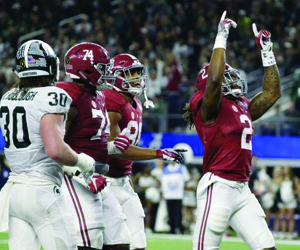 Alabama's win in the CFP National Championship would have paid out plenty of futures bets on a Crimson Tide national title, some of which were made nearly a year before the championship game. The same can be said for the upcoming Super Bowl, with teams like New England, Seattle, and Green Bay drawing the bulk of futures action over the course of the season.
Getting the best bang for your futures bet can be tough. The top teams are priced relatively low to open the odds and, should they play at that expected level, stay there throughout the schedule.
But there is value to be had and the right sports handicapping service will find that value.
Just look at teams like Carolina or Arizona in the NFL playoffs or even Clemson in college football. Those teams opened around 30/1 to win their respective championships.

Here are some tips and strategies for cashing in big on football futures:
Study the schedule
Football schedules begin to trickle out in the early spring, which means bettors have a solid idea of how easy or hard a team's upcoming season could be. But even before the official calendar is etched in stone, football fans have some idea of the opposition for the next season.
In NFL, you know teams will play each divisional rival twice and will have four non-conference games against a certain division. In college, conference opponents remain pretty much the same – give or take – and non-conference matchups are scheduled well in advance. Outside of home and away dates, that's more than enough to make an educated estimate of just how strong a team's schedule will be.
Improvements and declines
Some sportsbooks will post odds on the Super Bowl before this year's Big Game is even played. That means that those futures numbers are more connected to that current season that the upcoming one. Getting a grasp on which teams will improve or decline is solid method for finding value.
A young 7-9 team may be primed for a breakout while an older playoff team with some pending free agents could be on the way down.
In college, recruiting classes as well as measuring returning starters, redshirts and injuries can help unearth some valuable title contenders.
Coaching changes – which hold much more weight in college than the pros – can also jump start a stagnant program into contention.
Pick your spots
Just because futures odds hit the board early and are around during the offseason doesn't mean you need to bet them.
Some of the best value can be found midway through the schedule – most notably when good teams suddenly struggle.
One of the favorites to win the championship could stumble with an early-season loss or suffer a key injury, forcing sportsbooks to adjust their futures odds.
If you're confident that the team can get back on track and overcome that adversity, then strike when the iron is hot – or cold in this case. It pays to be patient with the futures markets.