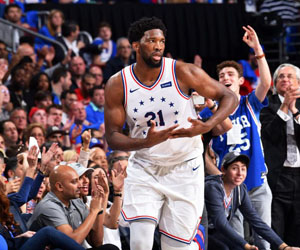 One of the most popular preseason NBA betting prop markets are season win totals – predicting how many victories a team will finish with and wager whether that record will be Over or Under the oddsmakers' projected win total.
With so much shuffling among star players this offseason, season win totals may hold some added value: either going Under those teams garnering a lot of offseason attention or betting Over on those teams behind them in the standings.
Here are a few favorite handicapping tips for the upcoming 2019-20 schedule:
Boston Celtics – Over 49.5 wins
The Celtics are amongst a crowded Atlantic Division which features the defending NBA champion Toronto Raptors, Brooklyn Nets and the Philadelphia 76ers. Boston bid farewell to thorny point guard Kyrie Irving this offseason, but it may be a case of addition by subtraction. Irving was often injured and become a malcontent for the franchise the past season.
The Celtics replace him with Kemba Walker in the backcourt and still have one of the deepest rotations in the NBA, with Gordon Hayward, Jayson Tatum, Jalen Brown, and Marcus Smart. Toronto won't be as strong without Kawhi Leonard, Brooklyn won't have Kevin Durant until next season, and Philadelphia is only as strong as Joel Embiid is healthy. The window is open for Boston to not only exceed this win total but win the division title.
Los Angeles Lakers – Under 50 wins
LeBron James gets a playmate in Anthony Davis, but beyond those two stars the Lakers roster is old and shaky. In keeping up with the rival Clippers, who jumped to the top of the NBA title odds with additions of Leonard and Paul George, the other Los Angeles team hung on to Kyle Kuzma and round out the depth chart with aging legs, like Rajon Rondo and Dwight Howard.
The big thing for L.A. will be staying healthy – and that doesn't just apply to Davis and James, who have had their share of injuries in recent years. Once you scratch deep enough into this Lakers team, you see a massive dip in depth and talent. Los Angeles would be smart to keep the playoffs as their goal and avoid trying to keep up with the team across the hall at the Staples Center. The Clippers have every-night depth while the Lakers should be concern about making the postseason with as many players still intact.
Washington Wizards – Under 27 wins
Washington is in a perfect place to build the future of its franchise. Without star John Wall for the entire season – due to an Achilles injury – the Wizards can full-on tank for a high lottery pick and no one will blame them. Bradley Beal remains the go-to guy in D.C. this season and will have the green light most nights.
Washington won 32 games in 2018-19 and face improved competition in the Southeast Division, with Orlando, Atlanta, and Miami all expected to improve from last year. The Wizards were one of the worst road teams in the NBA, with only 10 victories away from home, and should continue to stink – all the way to a Top-3 pick in the draft.