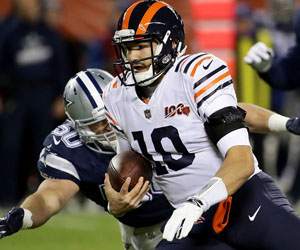 Week 14 of the NFL schedule opens in Chicago, where the Bears welcome the Dallas Cowboys on Thursday Night Football. Both teams are coming off Thanksgiving Day games last Thursday, but were dealt different results. Chicago snuck out a win at Detroit while Dallas went bust to Buffalo at home.
Sports betting handicapping have the Bears as 3-point home favorites for this primetime game. If you're betting the NFL odds for Thursday Night Football, here are the angles and edges to factor into your handicapping.
Cowboy up
Dallas drags a 1-3 SU record (2-2 ATS) in its last four games into Thursday Night Football, most recently falling flat to the Bills on the holiday. The Cowboys' once-mighty offense has had a tough time picking up traction in this span and outside of a 35-point effort in a Week 11 win over Detroit, has managed 24, nine and 15 points in those three losses.
The Cowboys have fallen behind early in those defeats and that's forced the offense to abandon the running game, which is the heart and soul of this playbook. Running back Ezekiel Elliott has failed to crack the 100-yard mark on the ground since Week 9 and took only 12 handoffs in the loss to Buffalo.
With the playbook leaning on the passing game, defenses have been able to key in on stopping quarterback Dak Prescott. While his yardage totals soar, due to the number of passes, his completion percentage has sunk during this four-game span, connecting on 108 of 178 throws for a 62% completion rate. Prescott may also be without top receiver Amari Cooper Thursday, due to a knee injury.
Chicago presents the toughest defensive test for the Cowboys this year, ranked seventh in yards allowed (319.7 per game) and fourth in scoring, giving up just under 18 points per game. The Bears stop unit has looked especially strong the past four weeks.
Grin and Bear it
Chicago can't afford for Thursday night to turn into a shootout. The Bears offense has been spinning its tires for most of the season, with quarterback Mitchell Trubisky struggling to build much momentum week to week.
However, he did have a solid showing on Thanksgiving, passing for 338 yards and three touchdowns, including a game-winning drive in the final minutes of the fourth quarter. Dallas' defense has struggled to slow down opponents in recent games. Outside of a poor weather matchup at New England – which hindered both teams – the Cowboy have allowed totals of 26, 27, and 28 points against in games with Buffalo, Detroit and Minnesota.
Total time
The Over/Under betting total for Thursday Night Football is set at 43 points. The forecast for Soldier Field is predicting temperatures around freezing but with gust of up to 20 miles per hour it's going to feel much colder on the field.
Dallas brings a 7-5 Over/Under record into Week 14 going 4-2 O/U as a visitor. Chicago sits at 4-8 O/U on the year, with a 1-5 O/U count in the Windy City this season.
–