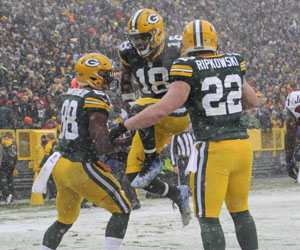 With December here it's beginning to look a lot like Christmas, but not in a good way. Football bettors face one of the most unpredictable times for weather, with NFL action plagued by cold, wind, rain and snow in the final four weeks of the schedule.
Handicapping software already saw winter weather impact their wagers in Week 13, so going ahead we give you some tips and tactics when factoring winter weather into your weekly football wagers.
Baby it's cold outside
Temperatures are dipping in December especially in those outdoor venues like Chicago, Green Bay, Kansas City, Buffalo and New York. Truth be told: no one likes to play when the mercury falls below freezing – not even those teams calling these colder climates home. But those host teams can gain an advantage when visiting teams come to home – more specifically, visiting teams from warm-weather homes or indoor stadiums.
When these matchups do offer themselves up, bettors should be checking into how the visiting team has performed in outdoor venues in the past, specifically looking at how the opposing quarterback fairs when taking snaps in cold weather games. Often times, the team that embraces the frigid temperatures is the one that prevails.
Snow day
Snow can impact the outcome of a game in various ways, and a lot of that has to do with the makeup of the teams involved. Downfield visibility can be tricky for those deeper passing teams that rely on a big-strike playbook. More often than not, teams with shorter quicker offenses – like a West Coast-style attack – can battle through the whiteout and move the chains.
Snowy conditions do often lend themselves to rushing-based teams better, with handoffs providing a more consistent connection – rather than risky passing plays and bobbled catches – and the ball carrier have a decisive edge when it comes to breaking free. Defensive tacklers are left playing a guessing game of sorts on the slick surface, allowing for runners to slip away.
Gone with the wind
No matter the season – fall or winter – the wind is the most impactful element when it comes to causing chaos on the gridiron. A strong gust can nullify a deep-pass attack, leaving those long looks to get pushed around by the breeze. Football bettors should dig into stats like plays of 20+ yards or more, yards per reception, and yards after the catch when seeing how much wind will change a team's offensive output.
Specials teams is another side of the game that can get flipped on its ear by strong winds. Punting becomes tricky, with teams kicking into the wind giving up better field position to the receiving team. Field goals and extra points can also be extremely tough to hit if the conditions are windy, leaving head coaches to make some tougher decisions when faced with longer kicks.
Football bettors may see more fourth-down attempts and two-point conversions in those games with windy field conditions, as coaches won't risk battling the breeze when it comes to kicking the football.
–