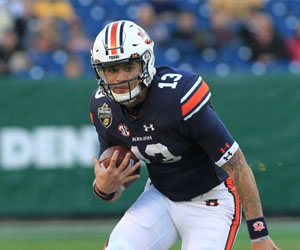 We're six weeks into the college football season and there are just a handful of NCAA programs that have been perfect against the betting pointspreads so far. Some of those moneymakers are well-known power conference clubs, while others are surprise successes against the spread.
We dive into professional sports handicapping the best college football bets so far in 2019, what's behind those winning wagers and if the cash will keep flowing heading into Week 6 of the schedule.
Auburn Tigers 5-0 ATS
The Tigers opened the year in a big way, with a thrilling come-from-behind win against Oregon in Week 1. Auburn edged the Ducks 27-21 and covering as a 4-point neutral-site favorite thanks to a 14-point fourth quarter.
Since then, it's been clear sailing for War Eagle. Auburn took down sizable spreads of -15 and -36 in matchups with Tulane and Kent State, and covered as a 4-point pup in College Station, with an outright win against Texas A&M. Last week, the Tigers pounced all over Mississippi State and blew away the 7.5-point spread with a dominant 56-23 home win.
Week 6 finds Auburn in Gainesville taking on the Florida Gators, and catching six points as a road underdog. The Tigers bring balanced results into Saturday's SEC showdown, ranked 34th in yards for and 34th in yards against. Auburn has covered in four straight meetings with UF, however, is just 1-4 ATS in its last five trips to Gainesville.
UL Lafayette Ragin' Cajuns 5-0 ATS
The Ragin' Cajuns covered a 19-point spread during a Week 1 loss to Mississippi State, losing by just 10 points in the season opener. That ATS winner set the stage for ULL, which has come through for spread bettors in each game his season.
The Cajuns covered -14 versus Liberty and toppled a massive -47 in a victory over Texas Southern in Weeks 2 and 3. UL Lafayette followed those win road wins, as an underdog at Ohio and as a field-goal fave at Georgia Southern last weekend.
This weekend, the Ragin' Cajuns enjoy some much-needed down time before taking on a challenging Appalachian State squad in Week 7. UL Lafayette is fueled by a high-powered offense, putting up an average of 44.4 points on 540 yards per game – 314 of those gains coming on the ground. App State also loves to ground and pound, but may not have the defense to slow down the Ragin' Cajuns attack.
Other 5-0 ATS college football bets:
Oklahoma State Cowboys 5-0 ATS: Week 6 at Texas Tech Red Raiders
Southern Methodist Mustangs 5-0 ATS: Week 6 vs. Tulsa Golden Hurricane