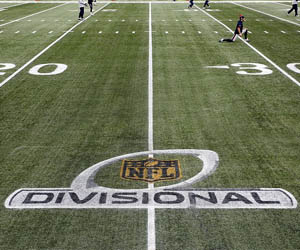 The NFL playoffs roll into the Divisional Round, with another weekend stacked with four games – two on Saturday and two on Sunday. The Wild Card Weekend provided a few surprises, setting up interesting odds in both the NFC and AFC.
Here's a quick betting breakdown and some handicapping tips of all four Divisional Round matchup and their NFL betting odds:
Atlanta Falcons at Philadelphia Eagles (+3, 41.5)
The Eagles are the underdogs at home despite being the No. 1 seed in the NFC. But that's what losing your star quarterback will do. Philadelphia turns to No. 2 QB Nick Foles to keep their postseason dreams alive, after losing starter Carson Wentz to a knee injury a few weeks back. Under Foles, the Eagles offense has been very bland, managing 19 and six points in their last two outings before enjoying a bye during the Wild Card Weekend.
Atlanta brings a ton of momentum into this matchup, having knocked off the Los Angeles Rams with ease in the Wild Card Round, marking the Falcons' fourth victory in the last five games. Atlanta's defense has been very impressive during this stint, giving up an average of only 17.6 points per game over those five contests. Football bettors will want to keep an eye on the forecast in Philadelphia, where cold and rain could be a factor, something the Falcons have struggled to play in this season.
Tennessee Titans at New England Patriots (-13.5, 47)
The Titans stunned the Kansas City Chiefs in the Wild Card Round, coming back from a 21-3 hole to win. Tennessee's defense played well but some of that credit – or perhaps blame – has to go to the Chiefs and their questionable play calling in the second half. Tennessee did benefit from some luck, never more so than on Marcus Mariota's touchdown pass to himself (off a deflection), but got a big effort from running back Derrick Henry, especially with fellow RB DeMarco Murray sidelined.
The Patriots have had a week to stew in a media controversy, with reports of a rift between Tom Brady, Bill Belichick and owner Robert Kraft. We've seen this team respond to controversy before, and honestly, they're probably anxious to get back on the field and away from all this drama. The Patriots looked great to end the year, covering in three straight outings, and have covered in their last four playoff games in Gillette Stadium. It wouldn't be surprising to see this line pushed to two touchdowns.
Jacksonville Jaguars at Pittsburgh Steelers (-7.5, 41)
The Jaguars took the Steelers to task back in Week 5, smashing Pittsburgh 30-9 as 7.5-point road underdogs – the very same line bettors are faced with in the Divisional Round. Pittsburgh wasn't playing its best football at the time, especially on offense. The Steelers scoring attack found its stride toward the end of the schedule and averaged more than 31 points in their final four games.
Jacksonville has a vaunted defense but the offense may not be able to keep pace with Pittsburgh should Ben Roethlisberger & Co. put space between them and the Jaguars on the scoreboard. Jacksonville struggled to move the chains against the Bills, and quarterback Blake Bortles hasn't looked good over his last three games, completing just 55 percent of passes and averaging only 5.6 yards per attempt.
New Orleans Saints at Minnesota Vikings (-4, 45)
The Vikings already scored a victory over the Saints this season, knocking off New Orleans 29-19 in Week 1. Those results should be thrown out the window, however. The Saints defense has been much improved this season, but this matchup could come down to ball control. Both squads rank among the best in time of possession, with Minnesota hanging on to the ball 32:36 per game while New Orleans posts an average TOP of 30:46.
The Vikings are undoubtedly outclassed at quarterback, with Case Keenum lacking the resume and experience of Drew Brees. It will be up to the Vikings dominating defense to even that playing field. Minnesota ranks tops in the NFL in yards allowed and points against, but boasts just 37 sacks and will need constant pressure on Brees to shake the playoff-savvy veteran.