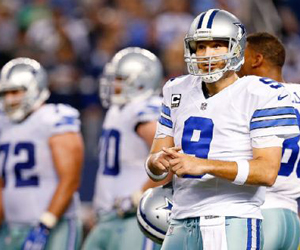 It's been a strange NFL season so far in 2015. Outside of a handful of elite teams, which have run away with their divisions, the remaining teams have just been bouncing into each other, unable to put distance between them and the rest of the competition. That's opened up tremendous value in the NFL divisional futures market, where these sleepers could come through with a big payday at the end of the year with some of these handicapping tips.
Jacksonville Jaguars (+500 to win AFC South)
Just last week, the Jaguars were as big as +2,000 to win the AFC south. But with Andrew Luck expected to miss a good chunk of schedule, the Titans and Texans not showing much life, and Jacksonville winning two of its last three games, the Jags have watched their odds significantly slimmed by bookmakers. Jacksonville also has the softest second-half schedule in the NFL, so the door is open for the Jaguars to finally crawl out of the AFC basement.
Dallas Cowboys (+1,500 to win NFC East)
Tony Romo got it right with his entertaining Tweet earlier this week, using a clip from baseball comedy Major League: "Well, I guess there's only one thing left to do… win the whole f-ing thing." That's pretty much the game plan for the Cowboys, who after losing their seventh game in a row in Week 10 will need to run the table in the final seven games of the season. Dallas needs some help along the way, in the form of losses from divisional rivals, but the NFC East looks like a division no one wants to win right now. The Cowboys are long shots, but not officially out yet – and this price tag proves it.
Chicago Bears (+2,000 to win NFC North)
Outside of the NFL's elite – Patriots, Panthers, and Bengals – few teams are hotter than the Bears right now. Let that sink in. Chicago has won four of its last six including back-to-back road victories over San Diego and St. Louis. The Packers are tumbling and the Vikings have puffed up their record against much-weaker opponents. The Bears, on the hand, have a favorable schedule left. They play a crumbling Denver team at home, at Green Bay, San Francisco and Washington at home, go to Minnesota and Tampa Bay, and finish at home versus downtrodden Detroit. It's not unfathomable that Chicago could finish 5-2 or even 6-1 in that stretch and put pressure on the top of the NFC North.