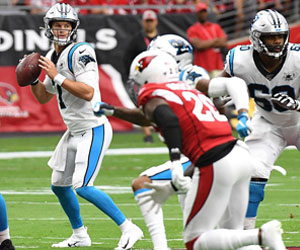 The NFL season is head to Week 4, the quarter mark for teams. A lot has happened in the start to the schedule, and if you're betting on the NFL odds this week, you'll want to keep an eye on these important handicapping tips that could impact your best NFL bets.
QB Questions
It's been out with the old and in with the new for quarterbacks so far in 2019. Injuries to veteran passers have opened the door for some unproven QB to show their skills. Some of those guys are stepping up, some might crumble under the pressure.
The latest prospects to take the NFL betting world by storm were Carolina QB Kyle Allen and Giants first-round pick Daniel Jones.
Allen stepped in for the injured Cam Newton this Sunday and helped led the Panthers past the Arizona Cardinals. The second-year pro got some run at the end of 2018 when Newton was out with injuries and put on a pin-point passing display in Week 3, going 19 for 26 for 261 yards and four touchdowns.
Carolina does have some talented weapons around Allen in terms of safety nets, in pass-catching RB Christian McCaffery and veteran TE Greg Olsen. Allen and the Panthers are 5-point underdogs in Houston for Week 4.
As for Jones, he took over as the No. 1 quarterback in New York and finished his starting debut with 336 yards on 23-of-36 passing with two touchdown throws and an additional 28 yards and two rushing scores to help squeeze New York past Tampa Bay Sunday.
However, Jones will be missing his best weapon – RB Saquon Barkley – who is out of action with a high ankle sprain. The Giants are 3-point home chalk hosting Washington, which is coming off a short week after playing Monday, in Week 4.
As we head into Week 4, seven teams are playing with quarterbacks that weren't intended to be their starting passers when the season began: due to injuries, depth chart moves, and retirements.
Unders and underdogs
Through three weeks of football, the sportsbook are smiling. The most profitable plays so far have been teams getting the points and low-scoring finals: two things the public players don't normally bet.
Heading into the final Monday game of Week 3, pointspread underdogs have covered at a near 59% rate, going 27-19-1 against the spread. Road underdogs have been the profitable bet for NFL fan, with those teams posting a combined 21-10-1 ATS record in 2019.
As for totals, the 2019 NFL season has averaged only 44.6 points per game, which is the second-lowest scoring output since 2011, behind the 43.4 averaged in the 2017 season. That drop in points has led to a 21-26 Over/Under for NFL games, staying below the total more than 55% of the time through three weeks.
The NFL Week 4 odds have seven games with betting Over/Under numbers of 45 points or fewer, including a 38-point total in Minnesota at Chicago and a 38.5-point total in Jacksonville at Denver.