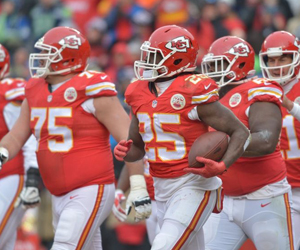 The Super Bowl 50 futures board tells us that the Carolina Panthers and New England Patriots (both listed as 4/1 to win the Big Game) are destined to meet in Santa Clara on February 7, 2016. However, looking beyond the favorites tells handicappers another story. There's plenty of football to be played and betting trends to be analyzed between Week 14 and the end of the regular season, and now may be the best time to bet some of these Super Bowl sleepers.
Seattle Seahawks (8/1 to win Super Bowl 50)
Seattle will likely be battling for a Wild Card bid in the NFC, since Arizona holds a commanding lead in the NFC West. The offensive has erupted for scores of 38 and 39 points the past two weeks, and looking back over the past four games, Seattle has averaged 34.5 points after putting up just under 21 points per game in the eight games before the bye week. Momentum is everything come playoff time and the two-time NFC champions are picking up steam at the right moment. Seattle has an easy slate too, facing Baltimore, Cleveland and St. Louis before a finale in Arizona.
Kansas City Chiefs (30/1)
What do the Chiefs have to do to get some respect from the oddsmakers? Kansas City is the hottest team in the AFC, putting up six straight victories with an impressive balanced game plan. The defense is making big plays and forcing turnovers while the offense has opened up, with the ability to strike deep while also playing a clock-control game. The Chiefs have a marshmallow of a schedule in the final four games, hosting San Diego, Cleveland and Oakland with a road trip to Baltimore.
Pittsburgh Steelers (12/1)
The Steelers are another team clawing its way to a Wild Card spot in the AFC, winning three of their last four with the lone loss to Seattle in Week 12 – a game they could have won. Pittsburgh has also been lighting up the scoreboard, with an average of almost 36 points per game in the previous four outings and that ability to strike for big gains keeps it in every game. The Steelers have a much tougher closing sked than the teams above, with three contests away from home. But it is front loaded with a game at Cincinnati this week then a home date to Denver in Week 15. After that it's divisional road trips to Baltimore and Cleveland.