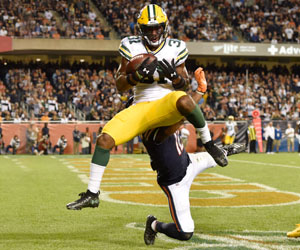 The NFL season gets underway with a classic divisional rivalry Thursday night, when the Chicago Bears host the Green Bay Packers.
Now, a matchup this big shouldn't just be left to betting the pointspread and Over/Under odds. There's a huge board of NFL odds and props for this kickoff game, and here are some of our best bets and handicapping tips for Packers at Bears – beyond the spread and total:
Davante Adams receiving yards (81.5 O/U)
Adams is the main target for Aaron Rodgers and with this new offense picking up the pace, there will be plenty of passes coming his way Thursday night. Adams is at full strength, which is something he hasn't been in a while, and has always done well versus the rival Bears.
Last season, Adams put up 88 yards and a touchdown in Week 1 at Chicago and followed that with a 119-yard effort versus the Bears in Week 16. Chicago allowed just 221.9 yards passing per game in 2018 but gave up totals of 286 and 274 in passing gains against the Packers. Adams is the standout on a shallow receiving depth chart and should get a ton of touches Thursday night.
Mitchell Trubisky rushing yards (24.5 O/U)
Trubisky enters 2019 with high expectations. After leading the Bears to the postseason and passing for 3,223 yards and 24 touchdowns, Chicago bettors are calling for another improvement in his third year as a pro.
However, Trubisky saw very limited action in preseason play and reports from training camp weren't the greatest, with timing and chemistry issues with his receivers. Trubisky scrambled for 421 total yards last season – about 30 yards per game – and will face a solid Packers defense that is looking to up their pass pressure in 2019.
Green Bay recorded 44 sacks last season – seventh in the NFL – and added some young pass rushers in the draft as well as in free agency. In their two matchups in 2018, the Cheeseheads sacked Trubisky five total times. The Bears QB ran for 32 and 16 yards in those two games. We expect him to feel similar pressure Thursday and top this total running for his life.
Will there be a lead change in the fourth quarter? (Yes +280/No -360)
These divisional foes play each other tight, and 2018's meetings were perfect examples.
Week 1 saw a classic Rodgers comeback in the fourth quarter, with Green Bay charging back from 20-3 hole to score 21 points in the final frame and win 24-23 on a late touchdown pass.
The Week 16 matchup had the score tied at 21-21 entering the fourth quarter before the Bears tossed up 10 points and came away with a 24-17 win at home.
A funny stat when it comes to the Bears and fourth quarters: they ranked among the best defenses in the NFL, allowing only 17.6 points per game on the year. However, they gave up 7.1 points in fourth quarters – more than 40 percent of their total points allowed coming in the final frame.
With that in mind, and Rodgers' tendency for late-game heroics, there is value on the big plus-money side of this fourth quarter prop.