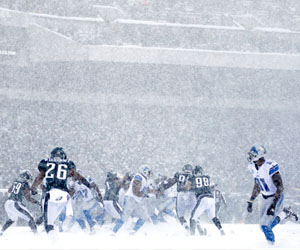 The 2019 NFL season is finally here, and with sports betting booming in popularity there are plenty of new players sizing up the football betting trends every weekend.
Whether you're new to betting on NFL odds or just need a reminder of the betting basics, here are some outside angles to consider – beyond just the teams – when wagering on pro football this season:
Line movement
NFL odds roll out later Sunday evening, once the finals from that day's games come in. These opening numbers are quickly bet into by professional players looking to take advantage of any softer numbers or odds that they deem incorrect. Sportsbooks will react almost as quickly, using the early opinion from the wiseguys to shape their numbers.
New players wanting to take advantage of these opening numbers should monitor their sportsbook closely, and if they have a strong opinion on a game, pull the trigger. Some bettors choose to watch the markets move on sharp money and follow that steam, jumping on the opinion on the professional gamblers.
Lines will remain relatively stable throughout the week – barring any injuries or impactful news – but will start to see movement again as the weekend draws closer. Most sportsbooks take more than 90% of their total wagers on the Saturday and Sunday, and lines can once again jump around when public players pile on a side – and sharp money contrasts that with money on the other team or total.
Always be on the lookout for the best number for your opinion, such as getting the favorite under the key numbers (like -6.5) and find half-point hooks on underdogs (like +7.5).
Weather
There are plenty of indoor venues in the NFL but a number of teams still play in open-air stadiums, which means weather can have a significant impact on the outcomes. In northern cities, rain and snow are common place in November and December and the autumn months can bring strong winds.
Rain and snow can make the ball and surface slick, but when it comes to weather no element has a much influence over the action as wind. Gusts can blow would-be field goals off course and make it tough for quarterbacks to accurately locate their receivers deep downfield. Strong winds can also plague the punting game, and lead to strong starting field position for offenses.
Always monitor the weather throughout the week and find out which games could see the elements lend a hand in the final score.
Injuries
Football is loaded with player injuries. Quarterbacks hold the biggest value to the spread, with prolific passers sometimes worth more than a touchdown to the oddsmakers pointspread. Key skill players, like top receivers and running backs can also have a say in the spread. But outside of those elite talents, most individual injuries will not move a line.
However, should a team suffer multiple ailments to a certain units – offensive line or secondary, for example – and be down numerous starters and backups, those "cluster injuries" can have a huge impact on performance.
These bulk injuries aren't as news worthy as big-name players going down, which means oddsmakers and the betting public won't react as quickly to the loss.