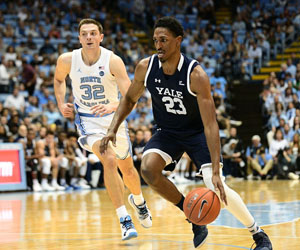 College basketball is picking up the pace as teams roll through conference play and with football slowing down, more and more sports bettors are taking a look at NCAA hoops. If you haven't been paying attention to the first few months of the NCAA schedule, we catch you up with the best and worst sports betting handicapping in college basketball.
Best ATS team: Yale Bulldogs 11-2 ATS
Not just a smart school but also a smart bet, the Bulldogs are among the top teams in the Ivy League with a 10-4 SU record heading into this week. Yale has been on an exam break since the New Year but was last seen put a scare in North Carolina, losing by three points as a 6-point road underdog.
The Bulldogs have played a handful of major conference opponents and tips off Ivy League play on Jan. 17. Yale does play a condensed schedule to close out the year but went 10-6 ATS versus Ivy League rivals last season, so more success could be on the way.
Worst ATS team: Iona Gaels 1-8 ATS
Basketball bettors know Iona well, usually installed as a mid-major power out of the Metro Atlantic Division. However, this season hasn't been kind to the Gaels, who limp into this week on a 2-7 SU record.
Iona's program has been built on offense in recent years, averaging just under 77 points last season and hovering around the 80-point average the two seasons prior. This year, however, the Gaels offense is failing to score 68 points per game and the offense can no longer offset their issues on defense. It all adds up to an average margin of -7.4 points per outing.
Best Over bet: Vanderbilt Commodores 11-2 O/U
Good offense and bad defense are a recipe for Overs, and that's what cooking in the kitchen for Vanderbilt. The Commodores are putting up more than 79 points per game, on the back on their 3-point shooting which is averaging almost 10 3-point buckets an outing.
On the other side of this Over run is a defense giving up 73 points per contest. This trend could come to a crash halt in SEC play. Vandy has played only one true road game all season and those offensive numbers could start to roll back inside opposing gyms. The Commodores are visiting Auburn this week, but their February schedule is backloaded with road games, which could make it very tough on this programs down the stretch.
Best Under bet:  Missouri Tigers 2-11 O/U
Staying in the SEC, Missouri is the mirror opposite of Vandy. The Tigers are an Under bettors dream, with an anemic offense and a defense that ranks No. 6 in the nation in points allowed. Mizzou is limiting foes to under 57 points per game on 36.5% shooting while also closely guarding the 3-point arc.
Offensively, the Tigers play a slowed-down pace with the basketball and ranked 310th in possessions per game. When it does have the ball, Mizzou is shooting just over 40% from the field but posing little threat from deep, averaging less than seven makes from beyond the arc an outing, and averaging only 67 points on the season.
–