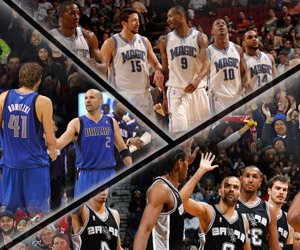 To be a betting favorite, you don't have to be an elite NBA team. You just have to be better than your opponent. Some NBA clubs garner lofty spreads, like the Golden State Warriors or Cleveland Cavaliers, while others are good enough to consistently give the points but don't face a mountain of chalk every night.
Here's a look at three of the best bets in the NBA when playing as pointspread favorites:
Dallas Mavericks (11-5 ATS as a favorite)
The Mavericks have been solid at home, going 9-5 ATS, which adds to their record as a favorite. Dallas has played up to the oddsmakers' expectations, recently covering as 5.5-point chalk versus Milwaukee and as a 2-point fave hosting Chicago. The Mavs have won by an average of 5.5 points when tabbed as betting favorites and will likely be giving the points in upcoming games at Miami, and versus New Orleans and Sacramento.
San Antonio Spurs (22-10 ATS as a favorite)
The Spurs have been playing in the shadow of the Golden State Warriors out West, quietly crushing the spread whenever oddsmakers give the points to opponents. San Antonio has been outscored teams by almost 14 points per game when listed as a betting favorite, which will come in handy since books are throwing a lot of points the other way. San Antonio has faced double-digit spreads in six of its last 10 games, going 5-1 ATS in those situations.
Orlando Magic (8-4 ATS as a favorite)
Unlike the Western Conference counterparts above, the Magic aren't wearing the favorites pants most nights. Orlando has only been giving the points in 12 of its 31 total games so far this season, picking up 38 percent of its total ATS wins while laying the points. The Magic were favorites in three straight games, facing Houston, Miami and New Orleans at home, going 2-1 ATS in that span. Orlando is home to Brooklyn on Dec. 30 before a three-game road run to Washington, Cleveland and Detroit, where it will be tabbed as an underdog in each contest. Luckily, the Magic are also 13-15-1 ATS when getting the points.