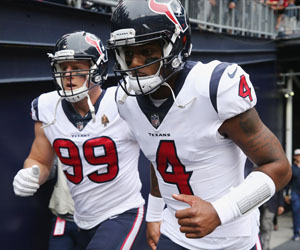 The NFL season is heading toward the Thanksgiving bench mark, which usually signals the home stretch and ignites those playoff races. The sports handicapping service schedule has a huge impact on which teams get into the postseason but also which teams come through against the spread each Sunday.
Here are three teams to keep an eye on, as they battle easy or hard slates in the final third of the NFL season.
Houston Texans
The Texans find themselves in a battle for the AFC South and a Top 4 spot in the playoff pecking order. Houston has faced a very road-heavy schedule in recent weeks, but that means the final stretch of the season is backloaded with home games. The Texans will play inside NRG Stadium four times in their final six outings: hosting Indianapolis, New England, Denver, and Tennessee. The two road outings come in Weeks 15 and 16, taking the team to Tennessee and Tampa Bay. Given Houston's ATS results at home – just 1-3 ATS – bettors may be questioning any home-field advantage for the Texans, but books have them set as the odds-on favorite to win the AFC South at -225.
Indianapolis Colts
The other team involved in that AFC South race are the Colts, who have stumbled a bit in recent games – most notably with quarterback Jacoby Brissett sidelined with a knee injury. Indianapolis plays four of its final six games on the road, including a huge Week 12 matchup in Houston. The Colts also visit Tampa Bay, New Orleans and Jacksonville before the end of the season and have gone 2-1-1 ATS as visitors this year. Indy's sparse home stands come versus Tennessee and Carolina in Weeks 13 and 16. Oddsmakers have the Colts priced at +400 to win the division title, as they rest in the seventh spot in the conference standings – just outside of the playoff cut.
Philadelphia Eagles
The Eagles are in a fight to the finish for the NFC East title, running neck-and-neck with the Dallas Cowboys. Philadelphia may have the advantage based on its final slate of games, which splits the final six games between home and away but sends the Eagles to Miami, Washington and New York – three of the weakest teams in the NFL. The home games welcome Seattle, New York, and Dallas in Weeks 12, 14 and 16. Philly is a -150 betting favorite to win the NFC East, with the Cowboys just behind at even money. The Eagles will likely need to win the division title to make the postseason cut, with some better records in the NFC North and NFC West. Philadelphia currently sits eighth in the conference standings.