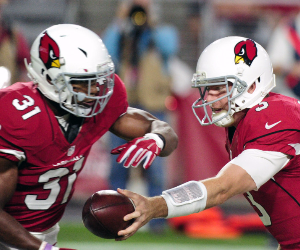 Football season is back – finally – with the college kids and the pros chewing up the bulk of your weekend handicapping. It doesn't matter if you're seasoned sharp or brand new to the football betting odds, brushing up on the basics is a smart way to start the new football betting season. Here are some simple handicapping tips and tidbits to keep you in the black this fall:
Betting the pointspread
Unlike many other sports, football has a rigid scoring structure: three points for a field goal and seven points for a touchdown (plus extra point). That means that final scores generally breakdown into repeated differences. Most often you'll see games decided by three, seven and 10 points, and that makes those key numbers for football oddsmakers.
Knowing the key numbers and betting around them is very important to wagering against the spread. A line may open with the favorite giving 6.5 points (-6.5) but action on that team could force oddsmakers to move to -7 or even -7.5.
Any bettors who grabbed that shorter opening line on the favorite will win their wager if the final score is decided by a touchdown, while those that got the adjusted numbers will either push or fail to cover with the final score. The same can be said for playing the underdog in this situation. Those that expected money on the fave and waited for the move to 7.5 before betting the underdog would have won their wager with a final decision of seven points.
Totals
So much can go into making and deciding a totals bets. Oddsmakers look at each team's scoring and defense and how they matchup – good passing vs. bad passing defense or bad running vs. good running defense. They also take into account the weather, including wind and rain/snow.
From the pointspread and total, football bettors can come to a predicted final score. If a team is a 7-point favorite with a total of 51, then the predicted score should be 29-22. From there you want to size up both sides and see if they are capable to putting up those projected points.
If you think the favorite is going to score more than 29 points – given the matchups on offense and defense – and the underdog is capable of putting up 22 or more, then you may want to side with the Over. If you see an edge on defense for the underdog and expect the favorite not to reach their projected points, you may bet on the Under 51.
Outside factors like weather, rest, travel, player injuries and 
betting trends
 all play into capping both the spread and total.
Futures
Futures odds allow you to make wagers on long-running outcomes, such as Super Bowl winner or conference titles. These odds are constantly adjusting over the course of the season, with line movement based on betting action, current form and injuries.
One strategy for betting futures is to bet a few of the top favorites at the beginning of the season. Often times, if the oddsmakers are correct, these teams are the elite squads and will be in contention to win that futures wager. Their odds are only going to lose value as the season progresses, which is when you want to start sizing up potential underdogs on the board which can make a run to the championship. Many times these are mid-level futures teams, not among the top favorites but not down with the long shots as well.
Coming down to the deciding game, if you hold a solid futures ticket on one of the top favorites you can hedge your wager by either taking another futures bet or a specific game bet on the other side, to guarantee profit. Just be mindful of what you wagered on the initial futures bet, the movement in odds, and the appropriate margin you need to guarantee profit.