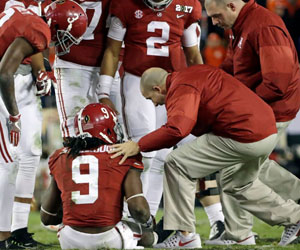 The opening weeks of the college football season can be a great time for bettors to beat up on their bookie. Since there are numerous unknowns involved in those early-season contests, the angles and edges present more value.
If you're jumping into the NCAA football betting pool this week – and over the next few weeks of action – here are some handicapping tips to follow for the early college football odds:
Know the coaches
Rosters change so much from year to year in college football, but head coaches have a system and recruit players to fit that system. So while you may not be familiar with the names on the back of the jerseys, you do know what the offense and defense is all about.
That said, digging into those new head coaches and coordinators can give you a leg up on the oddsmakers, who will base some of the early-season pointspreads loosely on last year's results. Read up on progress of the team in spring games and recent practices and see how those new playbooks are taking hold.
Also, pay attention to power programs and how their coaches treat the first few weeks of the season. Normally, big-name teams will have a few softer opponents on the schedule as a default preseason. Some head coaches use those games to fine tune the playbook and get their younger players valuable reps. Other coaches look to hammer those weaker foes, injecting their team with confidence and putting on a good show for the bowl selection committee.
Injuries and suspensions
Time off can be a burden to college programs, which is why we see so many suspensions in the first few weeks of the season as athletic departments react and punish to events involving their players over the summer.
And, as training camps and practices get underway the intensity ramps up the closer the schools get to kickoff. We often see a rash of player injuries heading into Week 1, due to players not being in shape entering training camp or just falling victim to bad luck.
Key player injuries will standout and oddsmakers will adjust for them, making those missing pieces tough to capitalize on – unless you find out early and beat the bookie to the move. However, the most valuable injury information – which is not often adjusted for or at least not as rapidly – is when a team suffers multiple injuries to a specific position or group – such as the defensive line or running backs.
Position battles
Every football program would love to have their starting rotations set in stone with capable players at every position, but that's not the case. Even with spring practices and training camp, coaches will leave plenty of personnel decision to the opening few weeks of regular season action.
Being aware of position battles can either draw a bulls eye around a team's greatest weakness or it can hint at the focal points of the coaches' game plans. A team without a true designated No. 1 quarterback likely doesn't have an elite talent under center. And a team trying to sort its depth chart at running back could hand off more than usual in the first few games.