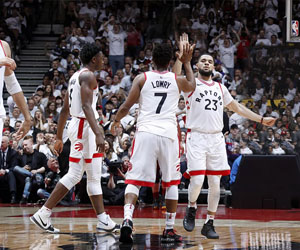 The NBA schedule rolls through another week of betting action, with a handful of teams surging to the top of the standings and other sinking to the bottom.
If you're betting on the NBA odds this weekend, keep these free handicapping selections, notes and trends in mind when handicapping the action on the pro hardwood.
Border war
The defending NBA champion Toronto Raptors were expected to take a step back with Kawhi Leonard leaving town for the bright lights and warmth of Los Angeles. And while the Raptors miss their Finals MVP, they've been able to hold their own to start the season.
Toronto has been especially strong at home, where they've limited opponents to only 104.1 points per game on 42% shooting. The Raptors have also poured on the points north of the border, scoring 121.3 points inside Scotiabank Arena – a massive uptick from the team's 107.2 points per game scoring average on the road.
That home-court edge has produced a potent parlay for Toronto basketball bettors, with the Raptors going 5-1 ATS and 5-1 Over/Under as hosts so far in 2019. Toronto is back home Monday and Wednesday, hosting Philadelphia and New York respectively.
Capital gains
The Washington Wizards have welcomed the road this season, or at least their bettors have with the team going 5-1-1 ATS as a visitor.
Washington is firing up almost 117 points per game on the road while budging for 117 against, and with the Wizards pegged as underdogs in all seven of those road outings the results have been great for those taking the points with Washington.
The Wizards, who are without star guard John Wall all season due to an Achilles injury, host Sacramento Sunday before hitting the road for the next four games. The trip takes the team out West, where it plays Denver, Phoenix and the two L.A. clubs. Expect the Wiz to be sizable road pups in all of those games.
Big D
The Dallas Mavericks are undergoing an offensive evolution, with talent small forward Luka Doncic leading the charge. Dallas has averaged 123 points over its last three, with Doncic contributing over 34 of those points per contests during that stretch.
The Mavericks have been especially hot to start the game, putting up more than 37 points per first quarter in that three-game period. Dallas is shooting almost 58% from the floor and 47.5% from 3-point range in the opening 12 minutes during this span.
The Mavs have a Texas-sized matchup with the Houston Rockets Sunday. The Rockets can also erupt for plenty of points in the opening quarter, and bettors may want to consider going over in the derivative markets for the first-quarter total on Sunday.