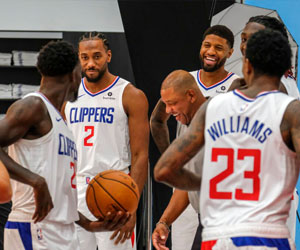 The 2019-20 NBA season is set to begin exhibition play over the next three weeks before officially tipping on October 22. As last year's playoffs proved, any team can win the NBA Championship, and with some much big-name player movement, the path to the NBA Finals has never been more cluttered.
Here's a look at the betting trends for a favorite to win the Western Conference title this NBA season:
Los Angeles Clippers +240
After years of dominance from the Golden State Warriors, there is a new frontrunner in the Western Conference. The Los Angeles Clippers made waves this offseason by not only acquiring top free agent Kawhi Leonard but also making a move to trade for Oklahoma City Thunder small forward Paul George – giving the Clippers two MVP-caliber talents to go along with a solid core of role players.
However, George will miss the start of the season due to recovery from offseason shoulder surgery, taking him out of the mix until mid-November. Los Angeles must be careful to pace itself in a very talented conference, and keep their postseason goals front of mind.
Los Angeles Lakers +375
The other team in La-La Land is among the favorites to win the West. LeBron James made waves last year, signing with the Lakers but didn't have much to work with during his first season in L.A. The franchise remedied that this summer by acquiring forward Anthony Davis – giving the Lakers two of the top two-way players in the league.
Los Angeles' roster looks completely different than 2018-19, save for talented small forward Kyle Kuzma, who could miss action in the opening month of the schedule with an ankle injury. Los Angeles does have some veteran depth, including shooter Danny Green, point guard Rajon Rondo, and former All-NBA center Dwight Howard.
Houston Rockets +600
Two of the NBA's most explosive scorers reunite in Houston, with Russell Westbrook forcing his way out of Oklahoma City (with the Rockets sending point guard Chris Paul to the Thunder) and teaming up with former OKC mate James Harden. While that pair looks great on paper, there might not be enough basketballs to go around in Houston.
The Rockets round out their squad with small forward Eric Gordon, defensive stopper P.J. Tucker, and center Clint Capela, who could be a real X-factor for this franchise. Capela averaged almost 17 points and 13 rebounds per game in 2018-19 and will get plenty of space with defenses keying in on the Rockets' guards.
Golden State Warriors +700
Don't discount the Dubs. The Golden State Warriors may have lost Kevin Durant in free agency but the brain trust behind this dynasty still remains in Stephen Curry, Draymond Green, Klay Thompson, and head coach Steve Kerr. Thompson will be out of action until the New Year after injuring his knee in last year's NBA Finals, but then again: the Warriors were never really about regular season results.
The team added D'Angelo Russell in a sign and trade with the Nets, giving it some added firepower to make up for Thompson's absence in the first half of the schedule. Golden State also brought in some much-needed bench depth, which is imperative after this core group of stars logged so many extra games after five straight appearances in the NBA Finals.