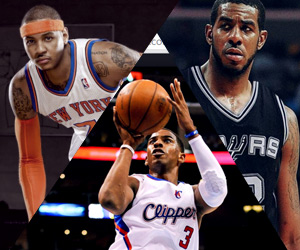 The NBA season is almost here and oddsmakers are quickly cooking up props for the 2015-16 campaign. One of the most popular – and profitable – markets in recent years has been the NBA MVP odds, with surprising winners in Stephen Curry and Derrick Rose, as well as value outcomes like Kevin Durant.
Around those winners were four MVP honors for LeBron James, who is the favorite (+190) to win again this season. But we dig deeper into the Most Valuable Player market to discover a few sports handicapping picks to receive the NBA's top individual honor:
Carmelo Anthony, New York Knicks (+2,000)
Anthony is arguably one of the Top 5 players in the NBA and if anyone can make the Knicks relevant again, they should at least get some MVP consideration. New York plays in the weak Atlantic Division, which is really anyone's to win – or lose. Melo looks like a MVP candidate early into preseason action and has some help in N.Y. this season, which should help take some of the wear and tear off his body.
Chris Paul, Los Angeles Clippers (+1,000)
The Clippers are ready to break away from the pack in the Western Conference and it's Chris Paul doing the heavy lifting. Paul, who actually suffered a minor fracture in his left index finger this preseason, played in all 82 games for L.A. last season, averaging 19 points and almost five assists per game. Los Angeles will challenge the NBA champion Golden State Warriors in the Pacific and if they can take the division over Stephen Curry & Co., Paul will be a huge reason why.
LaMarcus Aldridge, San Antonio Spurs (+2,500)
Aldridge was a force in Portland but now that he's under the wings of Gregg Popovich and Tim Duncan in San Antonio, he could make that next step as a player. The 6-foot-11 power forward is one of the best mid-range players in the NBA and should have plenty of room to operate with defenses forced to respect the Spurs' other stars. Aldridge, who signed a big free agent deal with San Antonio this offseason, posted more than 23 points and 10 rebounds per game and played a good chunk of the schedule with an injured hand.