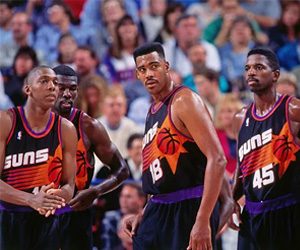 Dallas Mavericks owner Mark Cuban was recently fined $600,000 after admitting his team was in full tank mode for the remainder of the NBA season. That hefty penalty is a drop in the bucket for Cuban, but NBA bettors can earn a small fortune of their own fading these tanking teams down the home stretch of the schedule.
Here are some 
handicapping tips
 and a few teams turning on the tank in the final two months of the 2017-18 NBA season:
Dallas Mavericks (18-41 SU, 29-29-1 ATS)
It's coming straight from the horse's mouth: Dallas is in the dumps and looking to score a Top 5 lottery pick by tanking its remaining games. Since it's no secret the Mavericks aren't motivated, the spreads for their upcoming games will likely be monstrous, so it's not wise to blindly fade Dallas each night.
The best value to tackle this tank job is to go against the Mavs in those spots were motivation is questioned. That means fading Dallas in the second of back-to-back games and also against bottom-tier opponents, as the players are more likely to get up against the NBA's elite. The Mavericks have a solo road trip to Chicago next Friday and face a back-to-back set on March 16 and 17, playing the second outing at Brooklyn on St. Patrick's Day.
New York Knicks (24-36 SU, 29-31 ATS)
The Knicks opened a new era in New York basketball in 2017-18, sending franchise player Carmelo Anthony to Oklahoma City and banking on the development of Kristaps Porzingis. Things weren't going all that bad before Porzingis suffered a season-ending knee injury, and that devastating loss has left the Knicks to go 1-4 in the five games since losing the Latvian unicorn.
New York has an aging roster with little to no long-term support around Porzingis, who may not be the same player he once was upon his return. That puts even more pressure on N.Y. to bail on this season and guarantee a Top-5 draft pick. The Knicks will get a truck load of points each night, so the best way to wager on their tank job could be going Over, with the defense failing to show up. New York is 3-2 O/U in those five games without Porzingis, allowing an average of just under 115 points in those contests.
Phoenix Suns
(18-42 SU, 27-31-2 ATS)
Honestly, you could fade the entire Pacific Division – save for the Golden State Warriors – in the second half of the season. Phoenix just so happens to be the worst of the worst. The Suns have a head start on those other tanking teams, losing eight in a row heading into the weekend and going just 2-6 ATS in those games.
Phoenix has actually been a solid bet on the road, with a 16-12-1 ATS mark as a visitor due to a surplus of points passed down by the oddsmakers. The Suns are giving up 113 points against on the road and that number could continue to climb as the schedule winds down. Bettors should look to go against Phoenix in upcoming road spots and are gifted seven road games in the team's next 10 contests overall, including an East Coast run against Miami, Atlanta, and Charlotte.
Other NBA teams on the tank:
Sacramento Kings (18-40 SU, 26-29-3 ATS)
Orlando Magic (18-40 SU, 27-30-1 ATS)
Atlanta Hawks (18-42 SU, 31-27-2 ATS)
Memphis Grizzlies (18-39 SU, 24-31-2 ATS)