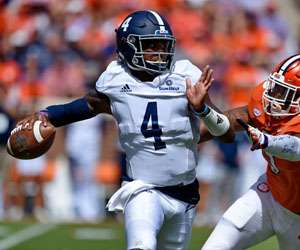 The third week of the college football season is usually the last round of non-conference games for programs before diving into league play. And for many teams – namely Power 5 programs – these Week 3 matchups are treated as the final tune-up before the real season begins.
With that in mind, Week 3 can be ripe with upsets as favorites are thinking ahead to Week 4 and not focusing on the foe standing in front of them. That can lead to upsets – or at least some live underdog plays.
Here are some betting trends for Week 3 games that could be closet then the college football odds think:
Georgia Southern at Minnesota (-15.5, 47)
The Golden Gophers have one last non-conference clash before starting Big Ten play in Week 4, with a conference opener at Purdue next weekend. But before that, Minnesota welcomes Georgia Southern Saturday, giving the visiting Eagles 15.5 points.
Georgia Southern got steam rolled by LSU in Week 1 but gained some confidence back with victory over FCS Maine in Week 2. The Eagles are without quarterback Shai Werts, who missed last week with a shoulder injury, but backup Justin Tomlin player well in his place and Georgia Southern runs the triple-option, so QB play is not at the core of its offense.
The Gophers are coming off a thrilling overtime win against Fresno State in Week 2 and got a scare from FCS South Dakota State in Week 1, leaving some doubt about this team. Minnesota could get caught looking ahead to a road trip to Purdue and not produce enough points to cover this big spread.
Duke at Middle Tennessee (+6.5, 50.5)
The Blue Devils showed flashes of potential in the first half versus Alabama in Week 1, switching gears on offense to the option and catching the Crimson Tide off guard before getting thumped 28-0 in the final two quarters. Duke followed that loss with a victory over FCS North Carolina A&T but the Aggies hung tough for most of the first half.
The Blue Raiders put up a good fight – good enough for those taking the 36 points – versus Michigan in Week 1, losing 40-21 against one of the best defensive teams in the country. Middle Tennessee followed that with a win over FCS Tennessee State in Week 2.
The Blue Raiders have the ability to hit home runs, with receiver Ty Lee leading that downfield attack. Middle Tennessee is averaging over 300 yards passing in its first two games, with fellow WRs Jimmy Marshall and DJ England-Chisolm proving to be dangerous deep targets.
The Blue Devils also have to keep an eye on dual-threat quarterback Asher O'Hara, who already has 135 yards on the ground through two games. Duke could also get caught looking ahead to ACC action, with a trip to Virginia Tech next on the schedule.