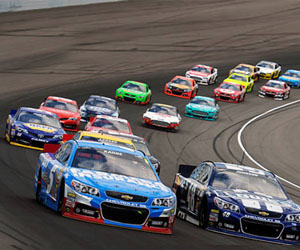 If you're busted on betting baseball or just want to try something different during the summer months, NASCAR is a weekly event offering some exciting betting markets. The Monster Energy Cup Series is the big-boy league in auto racing, running from February to the fall with a unique playoff system that whittles the field down until a champion is crowned.
If you're putting the pedal to the metal with NASCAR betting for the first time, here are some betting trends, tips and practices to follow as you handicap the weekly racing odds.
Horses for courses
Much like golf or tennis, certain venues give certain advantages in NASCAR betting, and knowing which drivers excel on those tracks is a quick way to weed out plays and fades each weekend. The NASCAR circuit sees races on various types of courses: super speedways, flat tracks, road courses, half-mile ovals, and 1 to 2-mile ovals.
If you dig into race histories or driver resumes, you see the same names rising up the leaderboards at particular tracks. Some guys are experts on super speedways while other thrive on a road course. Measure those track-specific drivers against their weekly odds to find value in the outright winner prices.
Manufacturers
The NASCAR field is made up of three car manufactures: Chevy, Ford, and Toyota. Depending on the season, results can trend toward one manufacturer more than the other.
For example, Toyota is excelling in 2019 with 10 races win in 16 events on the Monster Energy Series – despite having a smaller number of entries compared to Ford and Chevy each week.
You can ride these hot cars and cross check manufacturer success at certain race tracks to unearth some hidden betting value in outright and head-to-head matchups.
Motivation
Due to the Monster Energy Series' playoff format, some drivers will not aim at winning a race but rather putting in as many quality laps as possible without wrecking their car. As the postseason cuts come up, drivers and teams will employee different strategies to ensure their spot in the next round of the postseason.
Sometimes that's going all out for a much-needed win but often it is driving passive and offering up value to either pass or bet against those select drivers in head-to-head and finish props. And, as drivers get bumped from the championship picture, teams may tinker and experiment more (offering value to go against) knowing that they don't have a shot at winning this year's title.
Momentum
There's nothing wrong with rolling with the hot hand in any sport, and NASCAR betting is no exception. Drivers can go on hot streaks, with routine Top-10 or Top-5 finishes each week. Again, matching a driver to the course is the most important factor to consider, but when everything is clicking – driver, cars, pit crew, team – it's tough to stay away from a wager with momentum heading into the weekend.
For example, Kyle Busch, Martin Truex Jr., and Brad Keselowski have won a collective 11 of the first 16 races of the 2019 season with those three drivers finishing inside the Top 5 23 times already this season. While books will slim their price due to those efforts, they're going to give bettors a solid shot at cashing in every week.