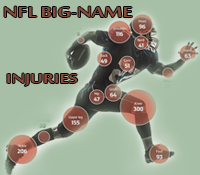 Players going down with season-ending injuries before the NFL season even starts is nothing new to football bettors. But the 2015 offseason seems especially bad when it comes to notable talents suffering crushing injuries. These injuries are important to know before making your sports handicapping picks. Here are three big-name players who went down this summer and how it will impact how their teams perform in the fall:
Kelvin Benjamin, WR Carolina Panthers
Benjamin had one hell of a rookie campaign in 2014 despite quarterback Cam Newton being less than 100 percent all season. Carolina backers were very excited to see this combo blossom but Benjamin went down with a torn ACL in camp – the injury of choice this offseason – leaving the Panthers passing game without a go-to receiver.
Offensive coordinator Mike Shula told the media the team is going to replace Benjamin by committee, which is coach speak for "I don't know what to do". Behind Benjamin is TE Greg Olsen and not much else in the way of pass catchers.
Expect the run-heavy offense – which rushed 45 percent of the time last year – to go even heavier on the ground. That could keep scores low in Carolina, opening up value on the Under.
Jordy Nelson, WR Green Bay Packers
Is Nelson good because he had Aaron Rodgers throwing him the ball or is Rodgers benefiting from Nelson's talent? That's the question Packers backers are mulling over since the speedy wideout was lost to a knee injury. Nelson finished third in receiving yards last year, hauling in 1,612 yards and 13 touchdowns.
This is a huge loss for the Green Bay offense to overcome but also puts a lot of pressure on the Cheeseheads defense, which hasn't been sharp in recent years. Green Bay's stop unit allowed 21.8 points on 347.4 yards against per game and looked to the offense to often outgun opponents.
Could the offense be asked to slow things down and milk time of possession, as to limit the defense's exposure? That could make those lofty spreads tougher to tackle on a weekly basis.
Orlando Scandrick, CB Dallas Cowboys
Last season, it was LB Sean Lee. This time, it's standout corner Orlando Scandrick. Dallas has been dealt some crushing offseason injuries, but this one could sting the most. Scandrick was easily the Cowboys' best defensive player last season, picking up the slack for a lackluster secondary. But he too went down with a shredded knee this past week, leaving Big D with some big questions.
The Cowboys will have to turn to oft-injured CB Morris Claiborne, who has been a bust since being drafted in the first round. That also means plenty of playing time for rookie Byron Jones, who is cut from a similar cloth as Scandrick – both of which are athletic freaks.
Dallas' defensive woes were masked by the team's ability to control the football last season. That may not be the case with DeMarco Murray in Philadelphia and no proven No. 1 at running back. Dallas may have to air it out and score big points to overcome a shallow secondary, which means value for the Over.