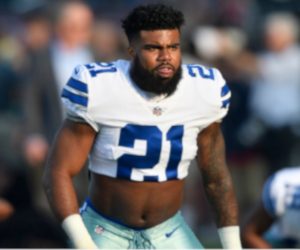 Player props and  
free handicapping selections
are a huge chunk of the NFL betting market from  and heading into the 2018 campaign, sportsbook have some of the more popular props on the board: offering odds on which players will top the league in most major statistical categories.
The names at the top of those props are no surprises, but if you dig a little deep, you can find some solid sleeper value with these players and their prop odds for the upcoming football season. Here are our favorite live long shot prop picks:
Most Passing Yards
Drew Brees and Tom Brady share top billing for this passing prop, both priced at +450. Those gunslingers are followed by Aaron Rodgers and Ben Roethlisberger at +1,000 and Philip Rivers at +1,500. But going well down the board, we find Oakland Raiders quarterback Derek Carr sitting at +4,000 odds. Yes, Carr is coming off a bum 2017 in which the Raiders offense seemed timid to pass the ball more than 20 yards at a time. But, we've got a new staff and some new targets lining up for the Silver and Black this season.
Oakland injected itself with big-play potential, grabbing former Packers wideout Jordy Nelson and scooping home-run hitter Martavis Bryant, putting those guys alongside Amari Cooper. This could be the most dangerous receiving corps in the NFL – if they can stay on the field, given injury and suspensions in the past – and don't forget tight end Jared Cook, who started to come into his own at the end of last season. The running game is a question mark behind the aging legs of Marshawn Lynch and Doug Martin, so with Gruden at the helm and former Rams OC Greg Olson calling the plays, the Raiders' passing game could be anything but boring in 2018.
Most Rushing Yards
Dallas Cowboys running back Ezekiel Elliott rushed for 983 yards in just 10 games last season due to his suspension, so it's not surprising why he's sitting as a +300 frontrunner to top the NFL in rushing yards in 2018. Behind Zeke is Steelers RB Le'Veon Bell at +600, and Leonard Fournette and Todd Gurley at +900. All are viable options to wear the rushing crown, but it looks like oddsmakers or forgetting about someone.
Priced at +1,300 is Arizona Cardinals RB David Johnson. Johnson did miss the entire 2017 slate after injuring himself in Week 1 of the season, but it was a wrist injury – nothing below the belt – so he should be healthy and ready to run this fall. Johnson has already looked like a monster in the preseason, rushing for a pair of 14 yards gains in the Week 1 exhibition opener and adding 22 yards and a touchdown in limited work in Week 2 of the preseason. Johnson put up 1,239 yards in 2016 and with Arizona's question marks at QB, he'll get plenty of touches this coming season.
Most Receiving Yards
Antonio Brown and Julio Jones are on another level, if oddsmakers are concern, pricing those elite wideouts at +250 and +500 respectively to lead the NFL in receiving yards. Other top targets like DeAndre Hopkins +800, Keenan Allen +1,000, and Odell Beckham Jr. +1,000 round out the betting favorites for this popular prop.
It would seem logical to link the top receiving prop to the top passing prop, which is why it's surprising to see New Orleans wide receiver Michael Thomas sitting down the board at +1,800 odds. With Drew Brees the favorite to lead the league in passing, and Thomas coming off a breakout year with 1,245 yards caught, this is a super deal on a terrific tandem. New Orleans pulled away from a pass-heavy playbook last year, throwing just 56.37 percent of the time – compared to 63.44 percent in 2016 – and Thomas still stacked major gains. He finished fourth among receivers with 22 catches of 20 yards or more in 2017.