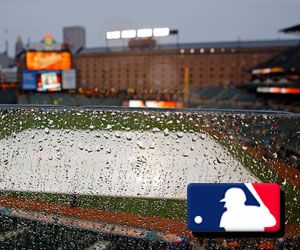 Time flies when you're having fun. And whether you're beating the daily MLB betting odds or not, it's tough to imagine that we're already midway through June and rolling toward July.
This point in the season marks a swing in way books set the baseball betting lines and should also have baseball bettors switching up their handicapping approach as July and August draw near.
The dog days of summer are a different beast than late-spring ball, so keep these online sports handicapping tips in mind going forward with your MLB wagers:
Weather watch
The mercury is rising around the big leagues and for those clubs playing in open-air venues, the weather can have a big impact on the outcome of home games. With the climb in temperatures comes a climb in humidity. This causes two things:
1. Hot humid nights are just that little extra that can turn a warning-track shot into a home run. The ball tends to hang and carry further in warm and wet climates, like Arlington, Texas, so that could give some added value to the Over in those conditions. Bettors should measure the game day forecast against the style of pitcher – ground ball or fly ball – and see how that humidity can help or hurt a club.
2. This is prime time for thunder storms. That clash of hot and cold air can stir up sudden winds, and knowing which part of the park those winds are blowing to can be a huge help for total bettors. Spots like Wrigley Field are already notorious for those strong gusts, but other outdoor parks can boast "Chicago style" breezes when thunderstorms are near. Again, know who's on the mound and if the wind is blowing in toward home plate or out toward the outfield.
Injuries
Two and a half months of baseball, day after day, can wear on even the most elite athlete. It's at this point in the season that we start to see that daily grind take its toll. Disabled lists will get crowded over the next two months, and those injuries can drastically change the shape of a rotation, bullpen, or lineup.
The Los Angeles Angels are already feeling this pinch, with 15 players on the DL including a slew of starting pitchers. And it shows in their recent results on the mound. Those holes in the rotation force relievers into extra duty and cause the club to call up reserves from the farm system, thrusting them into big league action and tossing them in well over their heads.
On this flip side of this, teams that have been bitten by the injury bug can receive a huge boost – and change in fortunes – when those top talents return to action. We've already seen the L.A. Dodgers spring to life at the plate with the return of third baseman Justin Turner from an early-season ailment. Los Angeles is hitting .280 BA and plating more than seven runs per game in the first two weeks of June, playing Over the total in nine of its last 12 games heading into the weekend.
Anomalies
One of the keys to betting baseball is to not overreact to early-season results. With 162 games on the slate for each team and action on the board every day, surprise results tend to level off over the course of the season. That can be a hot or cold start by a team or starting pitcher, and spotting this return to the norm before it takes hold is one of the best ways to claim betting value at this time of the year.
A good example is the Pittsburgh Pirates, who jumped to the top of the MLB betting board with a 16-12 start in April after being pegged to finish last in the National League Central. The Bucs were the most profitable play due to their plus-money prices but slowly started to fall to earth. Pittsburgh went 12-15 in May and is just 5-8 so far in June, burning up those early season profits and sitting almost three units in the hole for moneyline players.