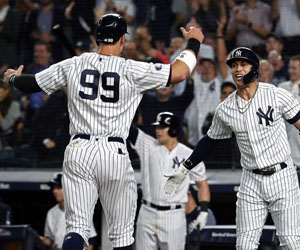 The MLB schedule is past the All-Star break and the trade deadline, with the World Series online odds calculator undergoing a bit of a shake up heading into August.
If you're trying to get ahead of the markets and find some hidden value in the MLB futures, here are some favorites as well as some alternative bets that may hold better return at the end of the baseball season.
Odds to win American League East
Favorite: New York Yankees -10,000
The Yankees hold a tight grip on the AL East lead, bringing 73 wins into Tuesday's action on the diamond. New York leads the majors in scoring with almost six runs per game, which has taken some of the pressure of a so-so pitching staff – besides a steady bullpen with the fifth-lowest ERA in the bigs. The Bronx Bombers are fantastic at home, with only 18 losses inside Yankee Stadium but play only 20 of their final 50 games in the Big Apple.
Alternative: Tampa Bay Rays +5,000
The Rays are nine games back of the Yankees in the division standings but there is still more than two months of baseball remaining before the playoffs. Tampa Bay has a much strong pitching staff, ranked second in collective ERA in the major leagues, and the offense has been hot since the All-Star break with an average of 5.3 runs per game. The Rays have an extremely easy schedule, currently on a run of 21 straight games versus clubs with records under .500. The staff will also have plenty of arms coming back from injury for a stretch run, including Cy Young winner Blake Snell.
Odds to win the American League Central
Favorite: Minnesota Twins -800
The Twins have a four-game cushion in the American League Central, which doesn't seem like much considering the odds to win the division price them out so high. Minnesota is one of the best two-way teams in the majors, sitting second in scoring and sixth in pitching. Minnesota has 25 home games remaining but does run into the Cleveland Indians three more times before the end of the schedule, for a total of 10 games. The Twins are 5-4 versus their division rivals this season and those matchups will likely decide the AL Central.
Alternative: Cleveland Indians +500
The Indians have the pitching edge over the Twins, with a strong starting staff – ranked fourth in the majors – and the best bullpen in baseball, which touts a 3.24 ERA on the year. Cleveland has been even sharper since the All-Star break, with a collective 2.90 ERA – best in the bigs – heading into Tuesday. The Tribe needed some pop in the lineup and added sluggers Yasiel Puig from the Reds and Franmil Reyes from the Padres during the trade deadline. Those bats should have AL Central pitchers sweating on the mound in the final two months of the season.